Moringa (Moringa oleifera) 500mg tablet is an Ayurvedic formulation of 500mg pure powder of Shigru leaves, contains active levels of Vitamins, minerals and microminerals which includes antioxidants, anti-inflammatories, vitamins, chlorophyll, beta carotenes, flavonoids, amino acids and more than 90 beneficial compounds. It is known as the most nutritious and potent superfood ever.
1. Ayurvedic Moringa tablets are made from moringa leaves powder and have nutritional benefits that support a number of bodiliy functions & organs 2. All the properties in moringa for weight loss also help in Healthy digestion, detox of Liver and kidneys 3.This moringa drumstick may help bone and joint wellness 4. May boost energy levels and may improve vitality, focus, and stamina 5. May boost the immune system. 6. May help maintain blood pressure levels within a normal range.
Moringa Oliefera
1 Tablet two times a day after food or as directed by physician.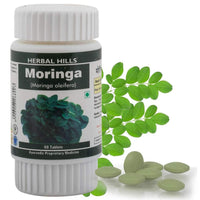 Moringa
- 60 Tablets / Tablet