Himalaya's Lip Balm, made up of completely natural actives, relieves sore and chapped lips, especially during the winter season. Enriched with the oils of Castor, Coconut, Wheat Germ and Carrot and the extracts of Sweet Indrajao, Lip Balm protects your lips against the drying effects of the cold, wind and central heating.
Dry lips
Carrot seed oil, wheatgerm oil, castor oil, coconut oil
Apply a thin, smooth layer of Lip Balm on your lips. Best for dry, chapped lips.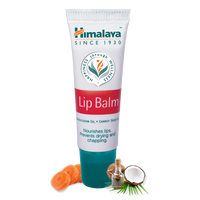 Lip Balm
- 10gm / Balm