Amroid is a poly-herbal Ayurvedic proprietary formulation for the management of piles. Amroid provides dual therapy as tablets and ointment to treat piles systematically by ingesting the tablet, and locally by application of the ointment. This two fold approach provides an effective and comprehensive management of piles. Amroid acts on the etiological site of piles and offers toning, motility and secretions to the GIT (Gastrointestinal Tract) and helps to prevent chronic constipation. Amroid also provides benefit by providing instant symptomatic relief via significant anti-inflammatory, haemostatic, anti-microbial, wound healing, liver protective, metabolic corrective actions. It has a toning effect on the functions of the entire Gastro-Intestinal Tract.
Bleeding Piles, Non Bleeding Piles, Inflamed piles, Painful defecation because of piles.
Terminalia chebula, Holarrhena pubescens, Azadirachta indica, callycarpa macrophylla, mesua ferrea, Phyllanthus emblica, Cassia fistua, Picrorhiza kurroa, Withania Somnifera, Foeniculum vulgarem Plumbago Zeylanica, Zingiber officinale, Embelia ribes, Shorea robusta, Daemonorops diaco, Purified Black Bitumen, Aloe Vera, Butea monosperma, Mimosa pudica, Curcuma Longa, commiphora myrrh, Jasminum officinale, Melia Azadirachta, Piper longum, Amorphophallus paeonifolius, Cynodon dactylon, Cocus nucifera, Bombax ceiba, Semecarpus anacardium, Vitex nigundo, Piper betle, Euphobia nerifolia, Purified Borax, Purified Copper Sulphate.
2 tablets three times a day after food or as directed by Physician.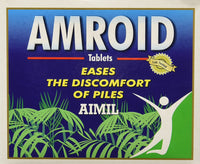 Amroid tablet
- 30 Tablets / Tablet