24 Carat gold Eye Counter Gel is unique formulation which contains 24 carat gold leaves with precious herbs and botanicals to rejuvenates sensitive cells under your eyes.
Fades dark circles and brightens under eye skin. Reduces visible fine lines. Rejuvenates sensitive cells under the eyes.
Key Ingredients : 24 carat Gold leaves, Aloe Vera gel, Almond oil, Amla ext.
Gently massage 24 carat eye counter gel with ring finger for 2 minutes around the eyes by moving finger in circular motion, leave on. Use 15 minutes before going to bed.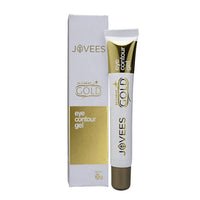 24 Carat Eye Contour Gel
- 20 Grams / Gel